Saturdays in March – meet at 7:45 AM in the Hannaford parking lot
behind

the Dunkin' Donuts at Drum Hill (map)
For 2018 the dates are March 3, 10, 17 & 24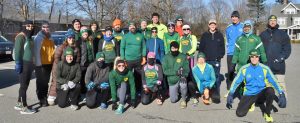 You must email Scott if you plan to run – DO NOT just show up!
We always need volunteers – email Scott if you can help
This is a series of four (no fifth week this year) training runs, during March, on the Boston Marathon Course.
For all runs we meet at Drum Hill in the Hannaford parking lot behind Dunkin' Donuts at 7:45 AM. There we organize carpools to head down to Boston.
The first week we run from Wellesley Community Center (directions – we park in the lot between the center and the church) near the 15 mile mark (of the course) to Boston College (at the top of Heart Break Hill which as at about the 21.5 mile mark) and then back to the start. The turn around is at Mt Alvernia Rd. The total planned distance is about 12.5 miles, which you can adjust by adding distance (we recommend adding by going past the Community Center on the way back), or shorten by tuning around before BC. There is a course map below. We provide 2 water stops on this course at about 4 miles and 8.3 miles.
The second week we start from Natick at about the 12 mile mark (of the course) and again run to Boston College and then back again. The planned distance of this run is 20.2 miles. Again you can adjust by turning around before BC or adding on at the end. As for all the runs the turn around is Mt Alvernia Rd. There is a course map below. We provide 4 water stops on this run at about 3.5, 7.5, 12 and 16 miles. As you might be aware, the start area for this run is pretty empty. We meet and park behind Ken's Flower Cafe at 158 E Central – we park out back (note: we try not to use private business lots – they have enough headaches from the Boston Marathon).
On the third and four weeks, we start in Hopkinton from the race starting line and run all or part of the way to Boston College, which is 21.5 miles away. Our volunteers set up waters stops at about every 4 miles. Volunteers monitor the course to make sure you are doing OK. You run as much or as little of the distance as you feel able to. We will have cars waiting for you in the area of Mt Alvernia Rd. Below is a course map of the entire Boston Course.
The first two weeks, because the runs are out and back – runners can drive themselves to the run. We "try" to get volunteer drivers to cover all the runners – so you can focus just on the running. But if we come up short – we'll have runners drive. For weeks three and four (and five – if there is one) – the run is point to point – so we make an extra effort to find volunteer drivers for all of the runners. If we come up short – then we'll change those runs to out and back so that runners can drive. We'll notify everyone in email a day to two before with the plan.
If you plan to run – you MUST email Scott – DO NOT just show up!
Volunteers: The basic job(s) are to drive the runners to the start and pick them up; and man a water stop. We provide gas money (a Cumberland gift card) and we provide the water stop materials (water, Gatorade, cups, trash bag, tissues, a milk crate and a clipboard/list with the expected runners). It's a good idea for you to bring extra warm clothes, a chair and something to read. As the runners come through give them water/Gatorade (they tell you what they want) and check them off the list.
As you might imagine – weeks three and four are the big ones! We need lots of drivers, and if we are to make a point to point run – then we need lots of drivers. Come help us those weeks. Ask anyone who has volunteered during those weeks – it is very inspiring – not just to see the GLRR runners – but the thousands of others out there (yes I said thousands). email Scott to volunteer.
Maps
Here are maps of the courses we are using:
One last thing – Don't forget to get a ride to the start of the marathon by being on our famous Boston Marathon Bus – sign up now by clicking on the link!