Some History and Beginnings on Berna's Great Leg Road Race (G.L.R.R.)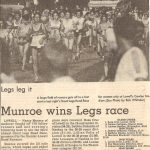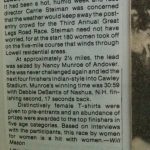 Early history from Dave Camaire:
Hard to believe that in 1980 the longest distance for women in the Olympics was 1500 meters. People in the sport thought this was ridiculous and a call went out to the RRCA's member clubs to hold women-only races to prove women could run longer distances. The board of the GLRR decided to join the cause by putting on a women's 5-miler out of Cawley Stadium. At the time, women made up a very small percentage of the running community; it was a male dominated sport. Carrie Stieman of Chelmsford volunteered to be the race director and she assembled a women's crew to manage the race. Like today, the men worked race day so the ladies could run. Nancy Corsaro was the most dominant runner in the race's early years.
Berna Finley got involved with the race several years later. She was not a club member when we began the event. The name Great Legs Road Race was the idea of Margaret Mason, wife of the legendary Will Mason. I know most of you have noticed the initials for the race are GLRR.
Dennis Conners was very instrumental in getting this race going. BTW our efforts worked, in 1984 longer distances were added to the Olympics and New England's own Joan Benoit Samuelson won Olympic Gold in 1984.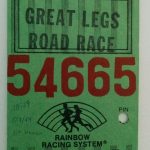 My first time at the Great Legs Race was in 1984, the 3rd running of the race. It was a 5-mile race back then, and it was run on June 8th, a Friday night. I did win that year, and the following year as well, when the race was moved to the middle of July. in 1986 it was changed to a 5K, and there were some really fast ladies there, as I finished 7th, running 18:03. 1987 had even faster ladies, with me finishing 8th in 17:43. in 1988 I returned to the victory stand, running my 5K PR of 16:53. Unfortunately, injuries and babies kept me away for most of the 1990s, but I have returned numerous times as a Master and a Senior runner.
Nancy Corsaro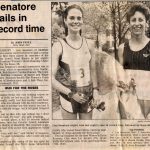 I remember watching when I was little and thought it was so cool that the leader at the mile marker would get cash prize!
Kara Haas